Though bees were active in this space days prior to the removal – it may have simply been robbing activity.   The placement of the hive raised a concern when I evaluated the colony – as it looked like the hive would be exposed to some intense sun exposure – and the week I evaluated – we had temperatures around 106 deg. F.
I had taken a temperature reading of the shingles exposed to the sun, and they read at 165 deg. F.  Surely too hot for bees to live just underneath.
After the soffit was opened – my concerns were confirmed.  The comb had melted, and dropped – and only about 100 bees were left in the void of the soffit.   Wax moth and Small Hive Beetle larvae were already present – so timing was good for this as a "clean-up" job.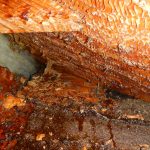 Afterwards, the space was filled with insulation, and the soffit put back into order.