Another hive – and the bees have been here a *little* longer than the homeowner had noticed.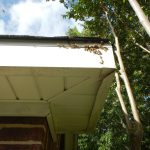 Though much of the comb was pure white – there was also plenty that was tan and brown.  I suspect the bees arrived EARLY this spring, then went unnoticed by the homeowners until they returned from a short vacation.
Lots of nectar was brought in by these bees.  The comb and bees were removed – and as always – the space filled with insulation, and put back together.