*** Subscribe to my YouTube channel here… ***
Available for sale in late 2020 and early 2021 will be a select amount of woodenware, as well as honeybees with queens of known genetics.
Woodenware
5-frame nuc box kit (bottom board, 5-frame deep body, frames with foundation, and telescoping lid) 

$60ea

10-frame Hive kit (bottom board, 10-frame hive body, frames with foundation, and migratory lid)

$140ea
Bees (Click here for NUC Colony Information)
Nucleus colony (NUC) in cardboard or coroplast hive body

$225ea

(Spring 2021 Delivery – NO MORE ORDERS – SOLD OUT)
NUC Colony in wooden 5-frame box above:

$275ea

(pending – no stock at the moment)
Plan on your 2021 NUC Colony early!   $125 deposit to secure your NUC colony – and the $100 balance due at pickup of your NUC (cash only, please).
Bohemian Utopia Designs – and Harmony Hollow Apiary presents plans for several beekeeping products that I build and use for myself.  Included at this time are:
Hive Cover
Migratory Hive Cover
Hive Body (10-frame and 5-frame nuc)
Hive Bottom Board (solid)
Pollen Substitute Feeder (made from PVC)
4-way Migratory Hive Pallets
The wood used for the deep hive bodies is labeled and marketed as "utility shelving" at one of the "big box stores" (the one with blue & gray signage).  It is 1×12 x 8′ in length.
Some of the lumber I use is recycled from other projects.  I was given the opportunity to get shiplap 1×8's from a home that was being demolished – so my bottom board and lid designs are offered – with that in mind.  Standard 1×8 (or other widths) will work as well.   I highly suggest using both waterproof glue (i.e. Titebond III) as well as LOTS of long staples, or several deck screws to assemble your parts.  Pre-drilling the holes can help avoid splitting wood.
All dimensions can be altered (by you) for your personal use.  If you want to make 8-frame boxes, then great!  Or use the designs to make shorter honey supers.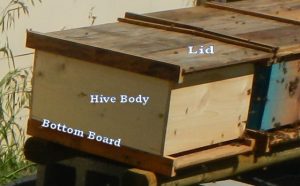 All designs below are .pdf format – and most were created for tabloid paper (11×17)
Be sure to check the "Fit to page" option when printing so that the pages will resize to your preferred printer output.
Boho Designs – Hive Bottom Boards
Boho Designs – PVC Pollen Substitute Feeder
and
the Pollen Feeder Follow Up post/video.
Boho Designs – DIY 1-Gallon Frame Feeder
Other Plans:
BoHo Designs – Wooden Slide-In Camp Chair
Upcoming plans:
Queen Cages
38 Liter Swarm Catch Boxes (aka Swarm Traps)
5-Frame NUC boxes
5-Frame NUC Lids and bottom boards
Migratory Hive Cover
QueenCubator – Queen Cell Incubator