When the weather turns wet, and the old work boots (or leather hat, etc) just is not waterproof any more, think about using a leather conditioner to rehydrate and waterproof the pores and stitching of the leather.  (note – this conditioner can be used on canvas tent material as well)
Amber's work boots were dry, cracked, and dusty, and with recent rain – she wanted to make sure they would perform as they did when they were new, and be waterproof for working in the horse arena, stalls, fields, and streams with the horses.
A liberal coating was applied to both boots, then warmed with a heat gun (a hair dryer would work also) to melt the paste into the pores of the leather and into the seams and stitching.
Because her boots had gone so long without a treatment, the paste absorbed quickly into the leather.  Amber applied a total of 3 coats of the conditioner to these boots.
Good as new again!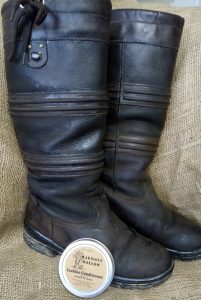 Note:  Leather conditioner will darken leather.  If appearance is important, apply to an inconspicuous area to test first.  Not meant for furniture or car seats.  (people always ask!).  It can also be used to re-waterproof canvas tent material.
Link to my YouTube Channel for you to "like" and Subscribe to my videos:
Harmony Hollow – YouTube