I have recreated the blog post made by Daisy WindSong for her JumpSTART program for children.  A presentation on bees and pollinators was given to the children of a Dallas area homeless shelter.  Shared are various forms of passion – whether it be a hobby, exercise, meditation technique, or other activity that is useful in our lives to give these children ideas and hope for their tomorrow.
Daisy's original blog post is here:  SUCCESS!
And her initiative can be found here:  WindSong JumpSTART – Join the Movement!
---
Our first meeting of JUMPSTART was a huge success! Here's a few pictures from our evening!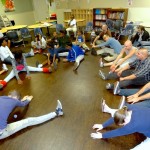 We started off the evening with a nice open heart circle and some stretching to get us relaxed and ready for our meditation!
Then Rex shared a song with us all and we sang along as he played the harmonium! (note from Rex – I brought 1971 forward to 2015 with a rendition of "Teach the World to Sing" – originally by Coca Cola corporation, then re-lyriced by the New Seekers to remove the commercial branding in the song.  Lyrics below.  The kids were given a song sheet – and much to my surprise, sang along with me.  It was fantastic!)
Rex then quizzed us on our knowledge of bees! I was surprised by how much the kids knew!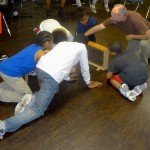 Then finally, they were revealed!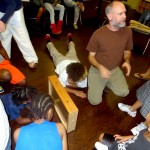 I'm so grateful for that sturdy little box! The kids had a blast and no one was stung!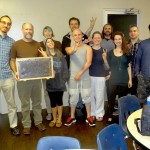 My rendition of Teach the World to Sing – with a little Sanskrit fade-away addition at the end of the song.