2021 – Orders for Harmony Hollow nucleus colonies (NUC) are NO LONGER being accepted for 2021 delivery.   **UPDATE 3-25-2021 – CURRENTLY SOLD OUT – MORE WILL BE AVAILABLE IN THE SUMMER **
**UPDATE 4-14-2021 – QUEENS ARE SCHEDULED FOR DELIVERY BY THE END OF APRIL.  THE FREEZE HAS AFFECTED MOST AGRICULTURE – INCLUDING THE QUEEN PRODUCERS.   THIS MEANS THAT NUCS ARE LIKELY TO BE READY BY THE END OF MAY INSTEAD OF THE BEGINNING OF MAY. **

NUCs are a "starter" colony that include a mated and egg-laying queen of known Italian genetics, several frames of eggs/larvae/brood, at least one frame of resources (nectar/honey/pollen) and a frame with foundation for the bees to draw fresh comb onto.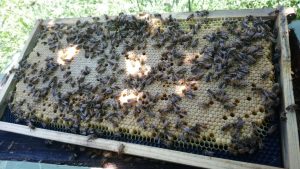 NUCs are $225ea for the 2021 season.   These bees will be provided in either a corrugated plastic EZNuc box or a rigid Pro-Nuc box – ready to transfer to your permanent woodenware.  They should be ready in mid-to late May – 2021.  (*** Update 4/14/2021 – Most national queen producers were affected by the February freeze across America – that queens have been delayed by a 30 days.  ***)
Terms:  $125 non-refundable deposit, and balance ($100) CASH at pickup/delivery
NUC: $225 ($125 deposit + $100 balance at pickup)
Marked Queen: +$20
1-Gallon Pro Frame Feeder: +$15
CALL TO ORDER – 469-251-2BEE (2233)
NOTE: Pickup of colonies is by scheduled appointment at:
Locust Grove Sanctuary in Farmersville, Texas
Wolfsong Farm near Forney, Texas
If reasonable distance – we can arrange for delivery (2 nuc minimum) – and I can install into your readied woodenware – for a $50 delivery fee.  

MANY

customers chose this option.   In all cases – purchase and pickup/delivery needs to be personally scheduled.
All customers will be contacted to communicate availability and when pickup dates and times will be scheduled.  When you place your order, we will need a valid email address and a phone number for communications.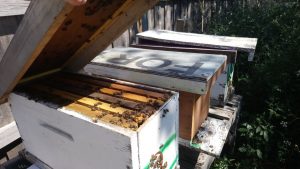 Care for your NUC:
After purchase, you will need to carefully move the frames of bees to your prepared woodenware for them.  This can be 8-frame or 10-frame boxes.  The safest way is to pick one of the outside edge frames that is either empty, or has the nectar/resources on it to remove and place first.  Then the other frames can be pulled away separately and placed into their full size hive body.  Watch each frame closely for the queen, and the brood frames for freshly laid eggs as well as various stages of larvae and capped brood.
It is highly suggested that you also have a feeder available for the bees.  Internal frame feeders, or a feeder that sits on top of the brood box for the bees to access from inside will reduce robbing from other hives or colonies in the area, and will encourage the bees to draw wax on the additional frames in your hive and maximize the population (and their hone/food stores) before entering the next winter.  Reduce the entrance down to an inch or so to further reduce any robbing activity from feeding your bees.  Sometimes placing a robber-screen or some blockade in front to the entrance will discourage robbing activity.
Varroa Mite management information HERE.  I treat all hives for for Varroa before making the NUCs with 1 oxalic acid vapor treatment.  Please research methods for varroa management – and use a method that works for you.   My link above is NOT a comprehensive list of ways to manage or eliminate varroa.
Note:  This is a livestock/NUC hive purchase only – and does not include classes, "mentoring", maintenance, or on-site consultation on how to manage or care for honeybees.
Bulk Purchases and hive hardware and installation can also be arranged.
Contact Rex Smith at 469-251-2BEE (2233) if you are interested in leasing or purchasing full hives to qualify for Texas Ag 1-D-1 valuation to reduce property taxes.    See THIS PAGE FOR 1-D-1 AG VALUATION WITH HONEYBEES.