An out-of-town military serviceman had been stationed on the east coast – and while renovations are being done to his Texas home – it was decided that it was TIME to take out the honeybees, so that other repairs could proceed.
He mentioned to me that he knew the bees had been there a while – (years) – but since they were up high – they really had not bothered anyone – so left them….  to grow…  and steal… (the – these little ladies were stealing from their community!!  Much of the 5+ year old comb had GREEN honey in it.  I do believe they may have found the local snow-cone stand syrup and brought it in to consume!  Who doesn't like a snow-cone on a hot day?  😉 )
Once opened, here is a short snippet of the view I had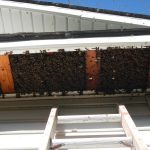 Though it was HOT outside (102+ deg. F) – these bees really were docile.  The video looks chaotic and unnerving – however the bees were NOT attacking me.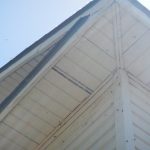 Once finished – the vinyl soffit panels were put back into place.   One the way home, I was hoping to stop in for a cool-down beverage at The Forge in Ben Wheeler – however it was still early in the day – so they were closed.   So I took a quick snapshot of the town's little wedding chapel across the street.