This colony looks to have been here for several months – from the comb – I'd say they probably were an EARLY spring swarm that moved in.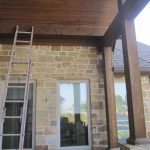 The bees had entry to a joist space over this porch area.  They have grown substantially in numbers since the homeowner noticed them.
Once the lower trim and first board were removed (whole boards across for this removal – no cutting of the boards – by request of the homeowner) the joist where the bees were was located.  The boards are tongue and groove cedar planks – and great care and attention was required to not break the fitting to each other – so that it would look right when re-installed.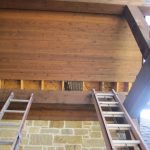 They wound up having comb that reached up to 4-board heights.  (sorry – no pics of the whole comb).  These bees were of VERY good demeanor, and should be a great bee-yard addition.
After the bee removal – the void space was filled on ALL the joist spaces to about 3′ tall – across the whole porch.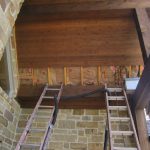 And finally – the boards were put back into place, and the trim board replaced – but nailed down tightly to prevent future intrusion by bees.