Honeybees have lived in the roof space of this breezeway between the house and garage for at LEAST the last 8 years (since the homeowners bought the house – and for years before they bought it).  This property is located in Wylie, Texas, and was hit hard by the hail storms earlier this spring.  When the roofers learned about the bees – they insisted that the bees be removed before they would repair and replace the roofing of the home.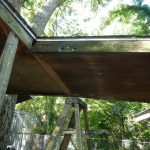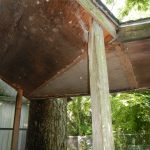 We had no idea what to expect when opening the void space, since we knew that bees had occupied the void for so long.   Luckily, while the colony was sizeable – it was not as large as it certainly could have been.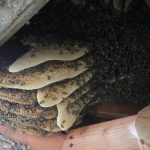 The cluster of bees was about the size of a basketball once I had removed the brood area comb from the roof line.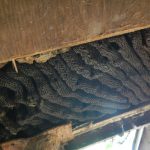 Another section of soffit had unused comb that was OLD.  All of this was removed as well.  The queen was found in the vacuum catch-box once I took all the comb and bees to the Harmony Hollow Bee Yard – and the bees were reunited with their saveable comb and put into a standard commercial type of hive.
This property was unique in another aspect:  It is the location of In-Sync Exotics Wildlife Rescue and Education.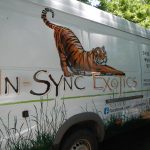 Once I finished with the bees, I was taken on a short and marvelous tour of the big cats on the property.  Here are a few pictures that came out nicely.   I would encourage you to visit this sanctuary in Wylie, Texas – and take a look at the cats they have saved.  Many of them arrived in very poor health, starved, and underweight – and through the tireless work of Vicky & Eddie Keahey – as well as their approximate 200 volunteers annually – these large cats are brought back to health.  Please do take time to look through the stories of the cats on their website – and consider donating towards their care.  (I watched as they were allocating out their daily diets – and it is a HUGE amount of food that is consumed by these cats)