This home has had a colony of bees on the side for about a month.  The homeowner was informed about the bees – and a call was made to investigate and get them to brighter pastures.
Here's the view as I peered through the shrubbery: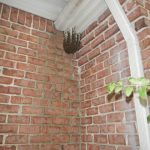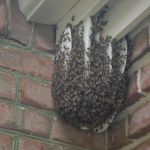 I could not tell yet (for certain) whether or not this was a new hive – or an extension of a larger hive within the soffit or wall.  After removing the external comb – it was determined that the hive did NOT go into the structure of the home.
The comb with eggs and brood was saved, the queen was found and placed into a hive body with the comb – and the residual wax removed from the home.  I also ran a fresh bead of caulk to make sure that bees could not enter in the future (from this spot, anyway).
Here are a few pics and a video of the bees orienting to the new box:
And the video: